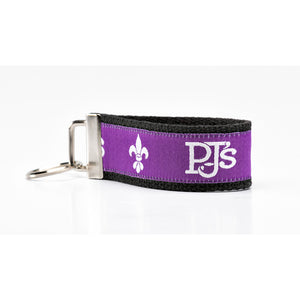 PJ's Key Chain
Regular price $13.99 Sale
New Orleans is like no other place in the world, from the people and the cuisine to the hospitality and culture. PJ's Coffee of New Orleans™ is proud of our heritage. Our roasting practices celebrate the city's lengthy history as North America's leading coffee port, and our seasonal flavors highlight the Big Easy's unique foods and cultural traditions, from pralines and king cake to the Zulu Social Aid and Pleasure Club's coconut throws for Mardi Gras. 

You'll taste this approach in our coffee. Since 1978, we have believed that craftsmanship goes into every cup. Our customers know our coffee has soul and will always be fresh.

Even when you don't grab a cup to start the day, this PJ's Coffee keychain clearly expresses your preference for quality. To create this combination, we partnered with NOLA Couture, which, like us, pays tribute to New Orleans' individuality with their designs and patterns.

Illustrating that here, this exclusive keychain combines the PJ's Coffee of New Orleans™ logo with NOLA Couture's popular Fleur de Lis print on a black, purple and white textile design with a stainless-steel keyring.