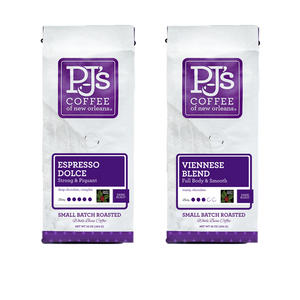 PJ's Cold Brew Bundle - Viennese Blend, Espresso Dolce
Regular price $32.99 Sale
Iced coffee is everywhere, and as a summertime treat in the Quarter, its refreshing coolness can't be beat. PJ's Coffee of New Orleans™ developed our Original Cold Brew™ Iced Coffee, which you can taste in our cafes or brew right from home.

Our PJ's Cold Brew Bundle features an exceptional pair of flavors - our Viennese Blend and Espresso Dolce. Combining dark and medium roasts, our Viennese Blend is known for its vibrant yet clean flavor, full body and toasty aroma with a light chocolate aftertaste. A contrast to this, our Espresso Dolce coffee emerges with a smooth combination featuring rich chocolate notes.

For your summertime delight, this set delivers exceptional flavor with less bitterness, no matter how you take your coffee, and is ground for cold brew.

Whether it's hot or ice cold, we believe you should taste craftsmanship and authenticity in every cup of coffee. We use only the top 1% of arabica beans for our coffee, picking them at the peak of freshness before slow roasting them in small batches. Our flavored coffees use a medium roast bean, which we then coat with distinctive and aromatic flavors following the roasting process.