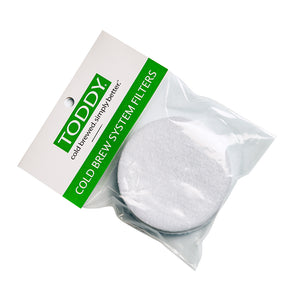 Toddy Maker - Replacement Filters
PJ's Coffee of New Orleans™ championed the smooth, delectable taste of iced coffee decades ago with our Original Cold Brew™ Iced Coffee. Today, you can savor all the flavor and craftsmanship in our New Orleans stores. For making this chilled beverage at home, we offer
cold brew coffee
and replacement filters for the Toddy® Cold Brew System. 
Iced coffee doesn't mean you brew up a warm pot and let it sit out. Instead, Toddy® Cold Brew Systems extract the flavor while removing any acidity and off-tasting elements in the process. The felt Toddy® filter is essential to this mechanism, and PJ's Coffee carries corresponding replacement filters for those enjoying this cold brew system.
Unlike with hot coffee, these aren't single-use filters. Instead, Toddy® cold brew filters are built to last 10 to 12 uses or a maximum of three to four months. Following use, simply rinse the filter under water without soap. Once it's free of residue, just squeeze out any excess moisture and store your Toddy® coffee filters in the freezer in a sealed plastic bag until the next use.
All filters are made in the U.S. Includes two filters per pack.