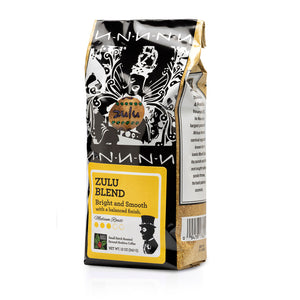 Zulu Blend
Regular price $14.99 Sale
PJ's of New Orleans™ introduces a bright and smooth medium roast with our Zulu Blend, for sale in 12 oz. bags. This coffee blend was named after the city's prominent Zulu Social Aid & Pleasure Club and their well-known Mardi Gras tradition.

Forming over a century ago in 1909, the Zulu Social & Pleasure Club has grown into New Orleans' largest predominately African American carnival organization. Today, they have earned a reputation - and drawn the crowds year after year - for their iconic parade, known for paying tribute to members' African ancestry.

Growing in size and complexity over the past hundred years, the Zulu organization's Mardi Gras parade is often associated with what they throw into the crowds - coconuts - to the point the event and the painted shells have become an institution.

Creating our own tradition since 1978, PJ's Coffee has made an impression with our quality and New Orleans-themed coffees, reflective or thematic of the city's definitive cultural elements, and surround these aspects with Southern hospitality. Our Zulu Blend embodies this care and attention to detail: we use the top 1% of arabica beans, sourced from Direct Trade farms, and slow roast everything in small batches for a unique, gourmet taste.   This item comes in a single 12 oz. bag.