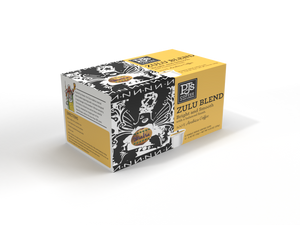 PJ's Zulu Blend Single Serve Cups (12 Count)
Regular price $12.99 Sale
Tradition comes in many forms. Our Zulu Blend coffee, a bright and smooth medium roast with an even finish, has hooked many of our customers over the years, so we have decided to offer it in single serve cups (12 cups/box). Taste one of our most recognizable and New Orleans-influenced coffees at work, at home or wherever there is a single cup machine.

The coffee's name references the Zulu Social Aid & Pleasure Club, an illustrious Mardi Gras institution that has grown in popularity since its inception in 1909. As the city's largest predominately African American carnival organization, the Zulu organization started throwing parades paying homage to members' African origins. While costumes reflected this theme, the events gained a reputation for their throws - coconuts, often painted in unique and colorful ways.

A local tradition since 1978, PJ's Coffee has curated a selection of New Orleans-inspired coffees since our inception and serves them with Southern hospitality throughout our stores. Taste the history and tradition whenever you take a sip.

For a limited time only!