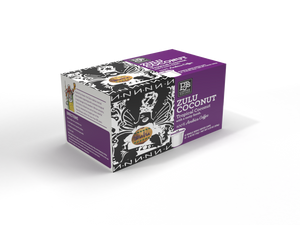 PJ's Zulu Coconut Single Serve Cups (12 Count)
Regular price $12.99 Sale
Mardi Gras and the Carnival season are a quintessentially New Orleans experience. Beyond what you see from the postcards and brochures, it's a local tradition, full of New Orleans soul and individuality. Our New Orleans Roast Zulu Coconut single serve cups pay homage, both in name and the medium roast coffee crafted with the sweet yet nutty flavor of roasted coconuts.

The reference comes from the Zulu Social Aid & Pleasure Club. Established in 1909, it's the city's largest predominately African-American carnival organization. Over the past century, the Zulu organization gained a reputation for its now-iconic, theater-inspired Mardi Gras day parade - one in which organization members have worn costumes paying tribute to their African ancestry.

As the momentum grew and the presentations became more elaborate, the Zulu organization's Mardi Gras parade became associated with its unique, unexpected throws. Rather than the usual beads, parade-goers reach out to catch coconut shells.

Taste the tradition and excitement whenever you brew a coffee pod of our New Orleans Roast Zulu Coconut. Carefully crafted, we coat each medium roast bean with unique and aromatic flavors following the roasting process.

For a limited time only! 12 cups/box.