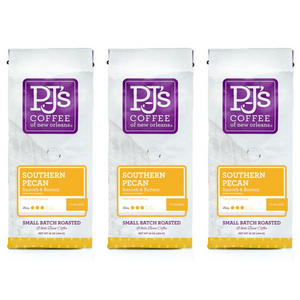 Southern Pecan (Pack of 3)
Regular price $54.99 Sale
PJ's Coffee of New Orleans™ is selective when crafting our flavored coffees. We strive to develop unique flavors reflective of the New Orleans experience and Southern hospitality, and among those we have introduced, Southern Pecan a long-time favorite.
Our best-selling flavored coffee, Southern Pecan is a medium roast that grabs attention from the first sip with a smooth and sweet flavor. This medium-bodied coffee gets your day started - or invigorates your afternoon - with a balanced, medium body and rich, buttery pecan notes.
Since 1978, PJ's Coffee has believed that superior craftsmanship goes into every cup, and we pride ourselves on delivering authentically fresh flavors reflective of the Crescent City.
To do this, we source our coffees from 14 origins, selecting the top 1% of Arabica Beans, picked right at the point of freshness. Under the direction of our Roastmaster, all coffee is slow roasted in our Roasting Facility in the heart of the city. This process creates a specialty gourmet coffee that's as complex and as bold as the city we call home.
For our flavored coffees like Southern Pecan, we coat medium-roast beans right after the roasting process with the distinctive and aromatic flavors we develop. Brew up a pot, and experience true Crescent City flavor.
This item comes with 3 1-lb bags.