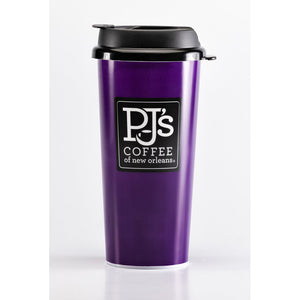 16 oz. PJ's Purple Car Mug
Get your day started with this 16 oz. PJ's Coffee Car Mug. Its exterior is designed to look like a traditional coffee cup, complete with a PJ's Coffee of New Orleans™ logo and shaped slider lock lid. The convenient, reusable design that you can fill with your own hot or cold beverage before hitting the road reduces waste from one-use bottles, and it can be brought in for a refill at any PJ's Coffee of New Orleans™ store.
As another plus, its base easily fits into most car cupholders, giving you the option to enjoy your beverage during your morning commute and any time you have a lengthy trip planned. Pick up one for yourself to savor your daily coffee or tea, or as a gift for the coffee lover in your life.
Solid polypropylene body
BPA-free construction
Designed for hot and cold beverages
Shaped like a coffee cup
Includes a slider lock lid to prevent your beverage from spilling
Holds 16 oz.