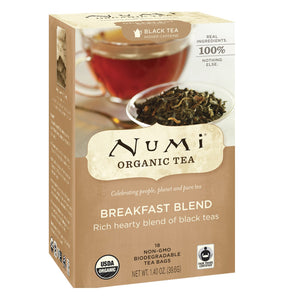 Numi Breakfast Blend Tea
Regular price $11.99 Sale
Numi Breakfast Blend Tea starts your day with a sip of refined style. This complex blend of organic black teas creates a hearty morning cup that blends well with milk and honey but also clears the cobwebs on its own. A box of 18 individual tea bags made from unbleached hemp-based paper brings non-GMO goodness right to your cup.

This bold black tea blend combines malty Assam, robust Ceylon, brisk Chinese Keemun and hints of floral Darjeeling for an eye-opening experience sure to stimulate your creativity. Brew it with fresh, filtered water brought to a rolling boil, and let it steep for four or five minutes before enjoying.

Whether you're gifting Numi Breakfast Blend Tea to the leaf-lover in your life or stocking up on morning staples, you're sure to enjoy ordering from PJ's Coffee of New Orleans™. We pack a little Southern hospitality into every sip.