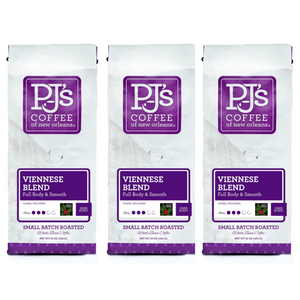 Viennese Blend (Pack of 3)
Regular price $54.99 Sale
Viennese Blend Coffee from PJ's Coffee of New Orleans™ strikes a nice balance between medium and dark roast. Each sip brings full-bodied flavor without bitterness that leads to a lingering, chocolaty finish. You'll enjoy the clean taste of this smooth blend first thing in the morning, for an afternoon pick-me-up or anytime you're feeling cosmopolitan.   
This item comes with 3 1-lb bags.  
Vienna is famous for its culture, music and coffeehouses. We created our unique blend of Viennese coffee beans to emulate that sophistication in every cup you brew. We love it so much that we use it to craft our Original Cold Brew™ Ice Coffee. Get that same experience at home with a Toddy Coffee Maker for low acidity and big flavor. Try all our 
Cold Brew Recipes
 for delicious, exciting coffee drinks that bring the adventure of a neighborhood coffeeshop right into your own kitchen.